About company
Since 1999, you have bought first-class packaging for the chemical, pharmaceutical or food industry, logistics, agriculture, or just for your own use. Our offer includes only reliable packaging of the highest quality from leading manufacturers in the Czech Republic, Europe and worldwide. Choose IBCs, barrels, canisters, bottles, buckets, cartons and anything else.

More about us
Our company was founded by Ing. Karel Valík (* 1963 - † 2016) with the aim of becoming an important service organization in the field of safe packaging with UN homologation to chemical manufacturers in the Czech Republic, Slovakia and many other parts of Europe. Since not all the necessary packaging commonly used in the chemical and consumer industries is produced in all countries, we have focused on the import and export of such packaging. However, there are many suppliers in the market, mainly from EU countries, but also with local producers. We are in direct and successful confrontation with them, we are also gaining market news, which is ultimately turning to our customers.
However, we do not sell chemicals only. We offer a wide and diverse range of goods (including food and hazardous goods packaging), premium quality packaging from the best manufacturers in the Czech Republic and Europe, additional services in the form of packaging consulting, package shipments including those for air transport and also the possibility to use a consignment warehouse and holding inventory in our facility. Of course there is the possibility of piece deliveries, spare parts and consolidation of deliveries, ie mixing of several kinds of goods into one consignment.

10 reasons to use our services
We are one of the most dynamic companies in the industry - a supplier of packaging for the chemical, pharmaceutical, petrochemical and food industries, and for waste disposal to businesses across Europe.
We cooperate with the best manufacturers of quality packaging in Europe, holder of ISO 9001 certificate.
We provide deliveries for both large and small clients in "Just in Time" mode up to the customer's home. At the client's request, different types of packaging can be mixed into one delivery.
Thanks to its purchase rebates, it sells packaging at the best prices and provides additional discounts to regular customers.
We provide service of packaging dangerous substances for all kinds of transport including air and sea.
We deliver to packaging (eg IBC containers)   additional devices such as hoses, reducers, filling guns, pumps, flowmeters, handling keys, etc.
We carry out ecological disposal of old packaging, especially canisters, barrels and IBC containers. She is involved in an environmentally sound "Recollect Service" return system across Europe.
We also provide advisory and repair services overseas through our local partners and cooperate with regional distribution centers in Central Europe.
We supply packaging with UN homologation and sanitary certificate valid for the whole world. Returnable packaging allows cost reductions several times over.
We provide technical and legislative support for our clients according to international regulations for the transport of hazardous substances, ADR, RID, IMDG-CODE, IATA-DGR agreements.

ISO 9001 certification
In 2002, we obtained the ISO 9001 quality management system certificate for the first time   and we renew it every year. Our priority is the satisfaction of you, our customers, with our services. Therefore, the SAP information system and Helios were implemented, as well as an effective system for receiving inquiries, creating bids and handling orders.

Trade Fairs
We are a regular participant in trade fairs at home and abroad. We exhibit at the packaging industry trade fair Embax in Brno, Taropak in Poznan, Incheba in Prague and Bratislava, Labor Expo in Prague and many others. Our expositions meet thanks to quality packaging and interesting materials with great interest of visitors. For the exhibition of our products, we use both open-air areas and the exhibition hall interiors with success.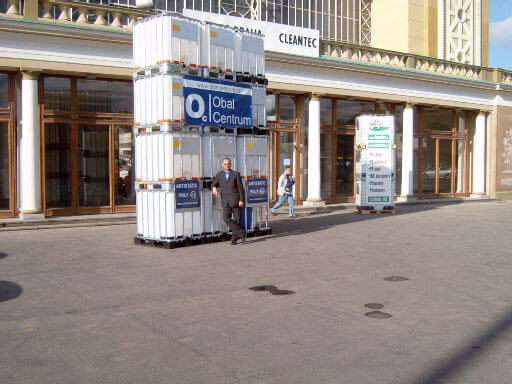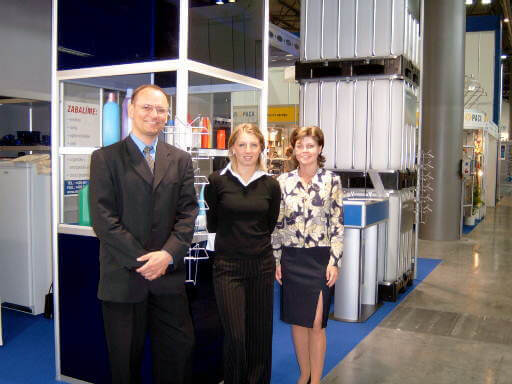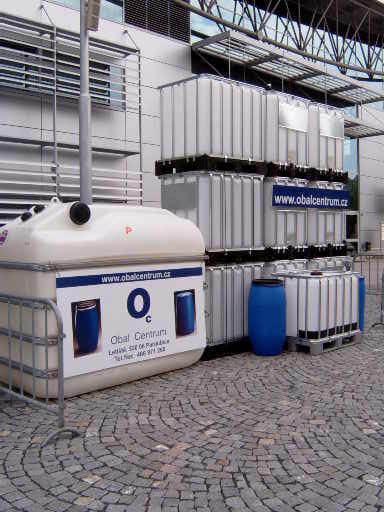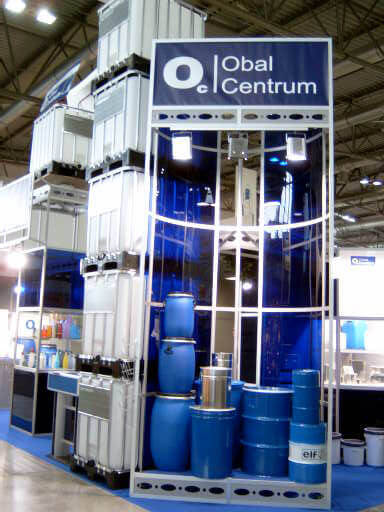 Cover of 2003
We hold the award from the SYBA packaging association for a PE bucket with a screw cap with UN certification.